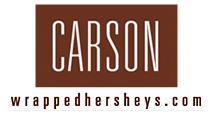 The Challenge
Carson Enterprises wanted to replace their legacy data entry system in order to support a new ecommerce website while expanding and standardizing their personalization capabilities.
The Solution
They implemented Data Management Associates' MACH as their catalog and internet order management software.
The Results
Carson Enterprises has experienced double digit sales growth, has launched a new website and has dramatically reduced personalization errors.
Carson Enterprises sells Hershey candy bars with personalized wrappers to consumers and corporations for special events of all types including birthdays, births, retirements, and trade shows. When the new owners purchased the company in July, 2003 they discovered an inflexible order entry system that could not support their expansion plans, including a new ecommerce web site. Personalized orders were lengthy (as many as 28 fields long), confusing and inefficient. New wrapper designs required costly programming. All accounting information pulled from the order and inventory systems had to be reentered into their general ledger system. The software was run on multiple operating systems including an expensive to maintain AS400 platform.
With an expansion plan in mind, the Carson owners began to search for a complete package that integrated everything from order entry to shipping to financials.
[quote style="1″]"We needed a system that had flexible programming so it could meet our personalization needs," said Sharon Frederick, President of Marketing and Creative Services at Carson. "We also wanted to work with a company that understood our business and could continually work with us as our business grew."[/quote]
After choosing the MACH software, Carson and DMA worked together to coordinate the data conversion, customize the personalization features, train staff and set up the system. At the completion of a swift implementation, the new order management software was up and running in January, 2005.
The MACH system has resulted in many benefits to Carson. One of the most noticeable is the more organized order process for personalized items.
Simplified and more organized order process
Carson has hundreds of personalized wrapper designs and each requires specific information. Previously, CSRs had to utilize Design Books to determine which of 28 personalization fields were required for each customized design. Now, when a customer chooses a design on the website or a CSR chooses a design from the order entry screen, the system only requests the personalized information directly connected to that design. Once orders are entered, customers are sent an Order Confirmation to review their personalization for accuracy. When an order goes to the manufacturing facility, it viewed as a mock-up, giving Carson another chance to resolve any discrepancies before printing. This improved ordering process has resulted in more error-free orders.
Integration of wrapper templates
MACH wrote custom software which integrates personalization data into customized Word templates which can be easily altered. Previously, modifications to templates had to occur as program changes.
Improved customer service
The streamlined order process reduces the time CSRs spend on the phone taking customer orders. The progress of orders can be tracked from entry to completion, so customers can be told the specific status of their order. The Customer Service history is included with orders, so follow-up can be handled by any CSR.
Superior multi-channel accounting management
[list style="check"]
The fully integrated MACH accounting system requires no re-entry of data and has resulted in more accurate financial records and audit trails.
One software management system serves the entire Carson Enterprise
All business is run from one easy-to-maintain Windows operating system.
[/list] Carson has continued its rapid growth with double digit sales growth over the last two years. It also introduced a new, more robust website in 2006. [quote style="1″]"If we had to choose an order management software vendor again, we'd choose MACH Software," Frederick said. "Over the years, they've been very easy to work with and they're continually responsive to questions or issues. They make it easy for us to put our focus where it needs to be…on our successful future."[/quote]
Tony is working on new client relationships and the expansion of present accounts.